Translating Dissent: Voices from and with the Egyptian Revolution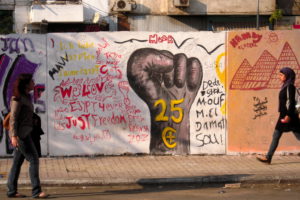 To order a copy, go to
https://www.routledge.com/products/9781138929876
Published 2016, by Routledge
Discursive interventions in the political arena are heavily mediated by various acts of translation that enable protest movements to connect across the globe. Focusing on the Egyptian experience since 2011, this volume brings together a unique group of activists who are able to reflect on the complexities, challenges and limitations of one or more forms of translation and its impact on their ability to interact with a variety of domestic and global audiences.
Drawing on a wide range of genres and modalities, from documentary film and subtitling to oral narratives, web comics and street art, the eighteen essays reveal the dynamics and complexities of translation in protest movements across the world. Each unique contribution demonstrates some aspect of the interdependence of these movements and their inevitable reliance on translation to create networks of solidarity. Framed by a substantial introduction by Mona Baker, the volume also includes an interview with Egyptian activist and filmmaker Philip Rizk.
With contributions by both scholars and artists, professionals and activists directly involved in the Egyptian revolution and other movements, Translating Dissent will be of interest to students of translation, intercultural studies and sociology as well as the reader interested in the study of social and political movements. Additional online materials, including links to relevant websites and videos, are available at http://www.routledge.com/books/details/9781138929876/.
Note: All royalties from the sale of this volume are donated to Hisham Mubarak Law Centre, founded in 1999 by the late Ahmed Seif El-Islam and other human rights activists to defend victims of torture and arbitrary detention in Egypt.
EDITOR BIOGRAPHY
Mona Baker is Professor of Translation Studies at the University of Manchester.  She is author of In Other Words: A Coursebook on Translation (Routledge, 1992, second edition 2011) and Translation and Conflict: A Narrative Account (Routledge, 2006), and editor or co-editor of several reference works, including the Routledge Encyclopedia of Translation Studies (1998/2009); the four-volume Critical Concepts: Translation Studies (Routledge, 2009); and Critical Readings in Translation Studies (Routledge, 2009). Her articles have appeared in a wide range of international journals, including Social Movement Studies and Critical Studies on Terrorism. She is founding Editor of The Translator (1995-2013), founding Vice-President of the International Association for Translation & Intercultural Studies, and co-editor (with Luis Pérez-González and Bolette Blaagaard) of the Rutledge series Critical Perspectives on Citizen Media.
TABLE OF CONTENTS
Dedication: To Radwa Ashour
Beyond the Spectacle: Translation and Solidarity in Contemporary Protest Movements
Mona Baker
Narrating Revolution, Historicizing Revolutions
A Wish Not to Betray: Some Thoughts on Writing and Translating Revolution
Wiam El-Tamami
Changing Frames and Fault-lines
Khalid Abdalla 
Translation and Diaspara Politics: Narrating the Struggle at 'Home' and 'Abroad'
Helen Underhill
The Contemporary Epoch of Struggle: Anti-austerity Protests, the Arab Uprisings and Occupy Wall Street
Todd Wolfson and Peter Funke
Translation as Political Intervention
Text and Context: Translating in a State of Emergency
Samah Selim 
Ethical Reflections on Activist Film Making and Activist Subtitling
Salma El-Tarzi
What Word Is This Place? Translating Urban Social Justice and Governance
Sherief Gaber
Translation and the New Poetics of Egypt's Revolution
Tahia Abdel Nasser
Challenging Patriarchy
Translation and Solidarity in Words of Women from the Egyptian Revolution
Leil-Zahra Mortada 
On Translating a Superhero: Language and Webcomics
Deena Mohamed
An Archive of Hope: Translating Memories of Revolution
Hoda Elsadda
Translation and the Visual Economy of Protest
Translating Emotions: Graffiti as a Tool for Change
Bahia Shehab
Democratic Walls: Street Art as Public Pedagogy
John Johnston
Pharaonic Street Art: The Challenge of Translation
Soraya Morayef
Translating Egypt's Political Cartoons
Jonathan Guyer
Solidarity, Translation and the Politics of the Margin
Interview with Philip Rizk

Epilogue
Moments of Clarity
Omar Robert Hamilton
Index