Breakfast with Mada: Mosaab Elshamy on Rabea, photography and memory


By: Lina Attalah
Thursday, August 14, 2014 – 14:42
In her seminal work On Photography, Susan Sontag spoke of making photographs as an event in and of itself, which, simultaneously with the events they capture, work on creating "a tiny element of another world: the image world that bids to outlast us all."
Mosaab Elshamy, a photojournalist trained as a pharmacist, provided an indelible photographic document of the dispersal of the Rabea al-Adaweya sit-in on August 14, 2013.
One year later, Elshamy has a rich photo archive of the day and an intense memory of the event that struggles to be told and retold in the form of stories. He sat down with MadaMasr today for breakfast to discuss what we're left with from the day that saw the death of close to 1000 protesters and the continuing trauma of the hundreds who survived it.
Elshamy recalls that between the dispersal of Rabea al-Adaweya, the Iman mosque becoming the repository of dead bodies the following day and violence raging in the Ramses area the day after, he encountered an unprecedented shock, even though Egypt was rhythmically experiencing violence for the last three years. The sight of bodies piled over bodies was both piercing and unavoidable, though he had tried before not to walk there. He never went to Zeinhom morgue for example, though it was a common errand for journalists and activists covering violence in the aftermath of the January 25 revolution.
Despite the shock, Elshamy worked mechanically and incessantly on posting pictures for three days on his Flickr account, imposing a record for a quickly forgetting populace. He had seen 15 photojournalists from local papers on site, but none of their photographs made it to the newspapers the following day.
Elshamy photographed Rabea with a sense of engagement because he believes that you can only document with a sentiment of empathy.



At times, he would be subtle, almost invisible, snapping pictures of a mother bidding her deceased son farewell on a floor stained with blood at a moment that was supposed to only belong to her.
At others, his presence was more announced. "I am here and I am trying to document what might happen to you in a few minutes," he says. "You are there. People are aware of your presence. You engage without talking. There were words we didn't say. There is just a fate we share."



Elshamy retreated in the final hours of the dispersal, the moment he heard a bullet passing a hair close to his ear. "I fell on the ground, discovered I was still alive, stood up and started to leave," he says, hiding his memory card in his socks, which would save his archive from imminent arrest at the exit of the sit-in.
Back home, he posted close to 200 pictures on Flickr that day, which grabbed the attention of hundreds of thousands of viewers.
The pictures took on a life on their own. Some people recognized their deceased relatives, minutes before they died. What was a shot with no context for Elshamy beyond the surrounding violence became a story once it was viewed and shared. This made him think of tracing some of his subjects and reconstructing the stories of their presence in Rabea that day. But many are dead. And many are in prison today.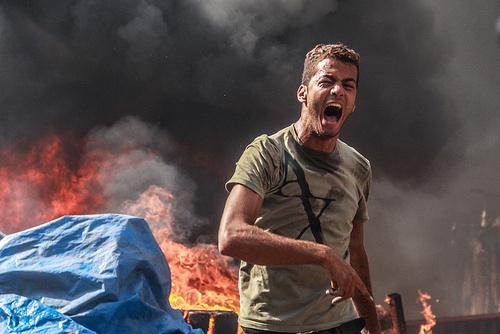 Beyond individual encounters with the pictures, we asked him why no photographs of Rabea have contributed to iconizing the event amidst aggressive denial by the state. He wasn't sure, but he spoke of "death being still alive" in photographs that become iconic. But it's not the absence of this record that de-iconized Rabea. Rabea's denial transcends the absence of a photographic record.
Elshamy wasn't sure to what end he was doing it, but some incidents contributed to an answer.
His childhood friend joined the army and was among the troops sent to secure the backs of the security forces during the dispersal. The day after, the friend had only seen the fatalities in the ranks of the security forces. He didn't shy away from telling Elshamy that he would do his job if they had to be on the opposite side of the battlefield in Rabea al-Adaweya. But when he saw Elshamy's photo set from the dispersal, he called to apologize and to say he now had a different understanding of what happened.
"Photos don't change the reality and won't return the rights of those who died. But they might just change someone's perception and crack some walls," he says.
"Last year shook me a lot. It made me reconsider if I wanted to be a photojournalist. I stopped taking photos for a few months. I had this moment of doubt. A few months later, I came out of it pretty convinced. I am still experimenting, trying to understand the shift that happened to me," he says.
Today, Elshamy still struggles with recounting what happened. He gives detailed testimonials to human rights organizations producing comprehensive reports about the massacre. "You can be a witness but you can't always be a storyteller. They are not the same. I find the telling part more difficult."
He says: "I wasn't able to cope with what happened. There were the nightmares and seeing things and not being able to think straight. It's shock with a huge impact and it is how it will be for the rest of our lifes. You have to know how to live with it."
—
All photographs courtesy of Mohaab Elshamy.
http://www.madamasr.com/content/breakfast-mada-mosaab-elshamy-rabea-photography-and-memory