Tell Me How It Ends: An Essay in 40 Questions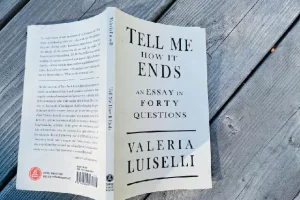 By Valeria Luiselli
Publisher: Coffee House Press
American Book Award Winner: A "moving, intimate" account of serving as a translator for undocumented children facing deportation ( The New York Times Book Review ).
Nonfiction Finalist for the Kirkus Prize
Finalist for National Book Critics Circle Award for Criticism
Structured around the forty questions volunteer worker Valeria Luiselli translates from a court system form and asks undocumented Latin American children facing deportation, Tell Me How It Ends humanizes these young migrants and highlights the contradiction between the idea of America as a fiction for immigrants and the reality of racism and fear—here and back home.
"Luiselli's prose is always lush and astute, but this long essay, which borrows its framework from questions on the cold, bureaucratic work sheets with which she became so familiar (for example, 'Did anything happen on your trip to the U.S. that scared or hurt you?'), is teeming with urgency…In this slim volume about the spectacular failure of the American Dream, she tells the stories of the unnamed children she's encountered and their fears and desires, as well as her own family's immigration story." — Vulture
"Worthy of inclusion in a great American (and international) canon of writing about migration." – Texas Observer
"A powerful indictment of American immigration policy, [ Tell Me How It Ends ] examines a system that has failed child refugees in particular." —Financial Times
These devastating essays document the terrifying experiences of unaccompanied children crossing from Mexico into the US
In 2012, the Mexican writer Luiselli caused a sensation with her haunting debut novel, Faces in the Crowd, in which her unhappy protagonist craved "narrative order." In this sobering essay, based on Luiselli's experience as an interpreter for undocumented child migrants crossing from Mexico into the US, the phrase "narrative order" reappears, this time to describe what's lacking in their chaotic stories. Trauma, exhaustion, youth and mistrust make it difficult to make sense of the children's experiences as she tries to help them fill out the intake questionnaires and piece together a defence against deportation.
Most have lost friends and relatives; 80% of girls and women have been raped (US civilian vigilantes and private ranch owners are known to "go out to hunt" undocumented migrants). In this compelling, devastating book, Luiselli documents the huge injustices done to the children by both the American and Mexican governments, and by the public who treat them as "illegal aliens", rather than as what they truly are: refugees of war.
Tell Me How It Ends by Valeria Luiselli is published by 4th Estate (£6.99)
Valeria Luiselli was born in Mexico City in 1983 and grew up in South Africa. Her novels and essays have been translated into many languages and her work has appeared in publications including the New York Times, Granta, and McSweeney's. Some of her recent projects include a ballet libretto for the choreographer Christopher Wheeldon, performed by the New York City Ballet in Lincoln Center in 2010; a pedestrian sound installation for the Serpentine Gallery in London; and a novella in installments for workers in a juice factory in Mexico. She lives in New York City.
See also:
Valeria Luiselli on Tell Me How It Ends: An Essay in 40 Questions
Mexican Writer Valeria Luiselli on Child Refugees & Rethinking the Language Around Immigration
Valeria Luiselli: Interpreters can help children from getting deported