Black Lives Matter translation prompts calls for changes to Ojibway language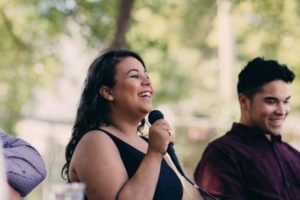 Language's term for black people is outdated, say young language learners
Lenard Monkman · CBC News ·
The phrase Black Lives Matter has been translated into many Indigenous languages to show support for the movement over the last week, but the Ojibway language's term for black people is spurring calls for change.
"The people's attitudes in trying to translate 'Black Lives Matter' is what set me off," said Felisha Simone.
Earlier this week, Simone said she was watching people in an Ojibway language Facebook group attempt to translate 'Black Lives Matter.'
She said the online discussions kept bringing up the term makade-wiiyaz, which translates closely to "black meat."
It is a term that she disagreed with other language speakers over.
"I feel like there is a lot of resistance to changing the way that language is used," said Simone.
She was told that it wasn't a disrespectful term and that it had been in use for a long time, however she has had negative experiences with the term in the past.
A few years ago at an Ojibway language camp in Keeseekoowenin First Nation, Simone introduced herself as makade-wiiyaz. She said the elders and language speakers chuckled at the term.
She said that afterwards, her language instructor Darren Courchene told her that wiiyaztranslated to meat.
"They were saying that I don't have to refer to myself in that way, that it's outdated, disrespectful and kind of racist," said Simone.
Advocating for respectful language
Simone's mother is Anishinaabe from Black River First Nation and her father is from Antigua. In English, she describes herself as Afro-Indigenous and in the Ojibway language, makade Anishinaabe ikwe, which translates closely to 'black Indigenous woman.'
Her mother was part of the Sixties Scoop and her grandmother was a residential school survivor. She said that over the past five years she has made steps to connect with her culture by learning the Ojibway language.
"I'm proud to learn the language," said Simone.
"I'm not saying everyone who uses that term is intentionally disrespectful, but we should have the right as black Ojibways to determine how we are talked about or introduced."
Pat Ningewance who is an elder, Ojibway language instructor and has written multiple Ojibway language books, said she agrees that it is time for a change.
"It's time to be respectful. There shouldn't be racism towards black people," said Ningewance.
"The language has to embrace more healthy outlooks."
'We're not the only ones'
Shanese Steele, whose mom is Anishinaabe-Métis and her dad is from Trinidad, said she has come across anti-black terms in other Indigenous languages as well.
"We're not the only ones who have it," said Steele.
She said languages should be open to adapting.
"As Anishinaabe people, we are not stagnant people. We have never been. Our teachings have taught us that," said Steele.
Both Steele and Simone said they would like to be referred to and introduced in a way that they feel comfortable with.
Simone said the language matters not only for herself, but for Afro-Indigenous children across the country.
Clarifications
A previous version of this story quoted someone saying Haudenosaunee languages have a term in their languages for black people that is "that is essentially the N-word." They do not, but a shortened, slang form of the term has been used by English speakers as a slur.
Jun 05, 2020 2:41 PM ET