The Writing on Egypt's Walls
14 August 2013, The New Yorker
By Jonathan Guyer

n Egypt, political cartoons leap off the page and into public places, from street art to high-class galleries, on leaflets and TV programs. At the Muslim Brotherhood's sit-in at Rabaa al-Adawiya, in the Nasr City neighborhood of Cairo, where protesters spent more than a month protesting the ouster of President Mohamed Morsi, cartoons were a form of resistance. A tent hosted an improvised gallery of comics from Brotherhood-affiliated newspapers; canvas walls at the back entrance displayed demeaning caricatures of the military and Photoshopped images of figures like the Coptic Christian Pope. (The Brazilian cartoonist Carlos Latuff's work—and SpongeBob—made an appearance, as well.) An art tent stood beside groups such as Lawyers for Morsi, Actors for Morsi, and Geologists for Morsi. That was Tuesday.
Wednesday morning, authorities began to clear the demonstration. In the process, they killed two hundred and thirty-five people, according to the Health Ministry, though a local field hospital put the number considerably higher. The cartoon gallery, like the rest of the demonstration, turned to mud and blood.
While Egyptians watched the news Wednesday night, cartoonists were preparing their illustrations for Thursday. Wherever they fall on the political spectrum, they work to craft a joke, jab, or remembrance that will push readers to think outside of the frame.
Here are seven illustrations that do just that.
"You are a Terrorist," photographed by Alex Ortiz, August 9, 2013
A corpulent Egyptian military officer with bunching stars-and-stripes drawers essentially calls the citizen a traitor. The interim government has used the terms "pro-Morsi" and "terrorist" interchangeably.
This image is a pastiche of a July, 2011, drawing by Ahmad Nady, an independent illustrator whose graffiti was part and parcel of the Tahrir Square uprising of January, 2011. In May, Nady told me that his goal is to push observers to "read and think." He's not a Brotherhood supporter and might be surprised to see his cartoon repurposed. "My ideology is revolution and my stand is revolution," Nady said, "not with any famous ideology that happens at this specific time, so I drew against ElBaradei before, against Ikhwan [Brotherhood], against Islamists and Salafis and church and the military council. I draw against everyone who does something wrong from my perspective. That's it."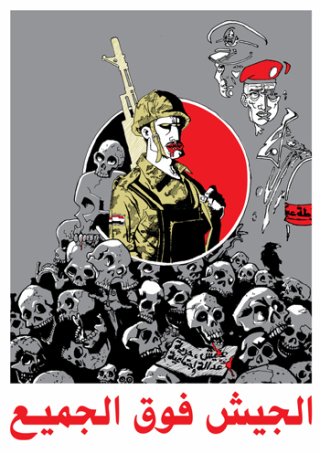 Ganzeer, "The Army Above All!" January, 2012
This poster by Ganzeer made the rounds on Facebook and Twitter Wednesday as Egyptians followed news of the violence. The sign crumpled up next to the skulls reads, "Bread, Freedom and Social Justice," the calling card and chant of the January, 2011, uprising.
Ganzeer is one of Egypt's preëminent graphic artists; his stencils and decals can be spotted on walls throughout Cairo. "Today, the state of Egypt decided to massacre religious fundamentalists brainwashed by years of misinformation and de-culturization provided by that very same state," he wrote me from Helsinki. "Regardless of whoever's doing the killing and whoever's being killed, a massacre is still a massacre."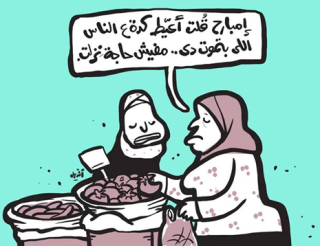 Andeel, "Last night I tried to cry about all the people getting killed.… Nothing came out!" Facebook, August 7, 2013
Wednesday's violence was something that the country sort of expected. Egyptian authorities attempted to clear Rabaa on July 7th and 27th, killing fifty-one and seventy-two people, respectively. In that environment, Andeel, a cartoonist for the independent Al-Masry Al-Youm newspaper, poses a challenging question to the reader: At what point will Egyptians become desensitized to violence?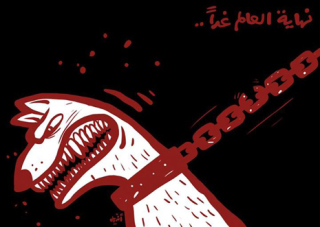 Andeel, "End of the World Tomorrow," Facebook, August 3, 2013
Another cartoon permeated with a sense of impending violence. An increase in self-censorship by editors has kept ardently anti-military cartoons, like this one, from publication in the mainstream press. Last week, Andeel told NPR, "[Editors] would sometimes say, 'We don't quite get the idea,' which is something that they always say when they want to refuse a cartoon, when they want to be polite." That's why he publishes work like this on Facebook, where he has fifteen thousand followers.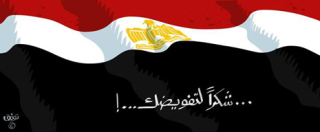 Tawfik, "Thanks for your Authorization!" Facebook, August 14, 2013
The Egyptian military has governed since July 3rd, under the banner of "popular sovereignty," asserting that Morsi was displaced by a grassroots uprising, not a coup. In this cartoon, Tawfik imagines a thank-you card that the Armed Forces might send the Egyptian people in gratitude for their support. It's a particularly understated cartoon for an artist who has published vehemently anti-military caricatures, such as riot police splattered with blood and enormous military officers scowling at youth, on his Facebook wall this month.
Amr Talaat, "The Blood," Al-Tahrir, February 6, 2013
In the past year, whenever violence broke out in Egypt, the independent newspaper Al-Tahrir would recycle a familiar cartoon, simply titled "The Blood." A mustachioed man enters a blood bank and asks the attendant, "How much does a bag of blood cost?" "It's free," responds the employee. The customer immediately retorts, "Why?" In a typically dry Egyptian joke, the employee replies, "Because it's Egyptian blood." Thursday might be a day when Al-Tahrir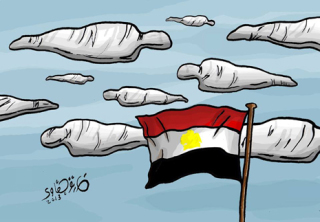 Tarek Gafawy, Roz El-Yusef, August 8, 2013
Gafawy posted this cartoon again on Facebook Wednesday, simply saying, "All blood is equal. I care about humans."
Jonathan Guyer is a Fulbright fellow researching political cartoons in Egypt and associate editor of the Cairo Review of Global Affairs. He blogs at Oum Cartoon.
http://www.newyorker.com/uncategorized/the-writing-on-egypts-walls