On the 45th Wedding Anniversary Mourid Barghouti & Radwa Ashour
BY MLYNXQUALEY on  
In Mourid Barghouti's seminal memoir, I Saw Ramallah, he writes about the loss of his private days — namely his birthday and his anniversary — as author Ghassan Kanafani was assassinated on the date of the first, and cartoonist Naji al-Ali on the second:
From I Saw Ramallah:
I got to know Naji in 1970 in Kuwait. He was the cartoonist of al-Siyasanewspaper, and I used to spend some evenings in his small office. I was working as a teacher in the technical college and preparing my first collection of poems for publication. I came to know him well and saw how one can touch talent with one's fingers. …
In 1980, at a poetry festival in Beirut Arab University, I wrote a poem entitled "Hanthala, the Child of Naji al-Ali." Al-Safir newspaper later published it on a whole page, surrounded by Naji's drawings.
Here everything is prepared as you would wish,
Something to suit every occasion:
A loudspeaker on the night of the festival,
A silencer on the night of the assassination.
Seven years after that night, the night of the assassination arrived. I was with Radwa and Tamim in a hotel on Lake Balaton in Hungary during our summer vacation. We woke up early and I switched on the radio to the BBC from London and picked up the end of a sentence about the "prominent Palestinian cartoonist." We knew immediately that Naji had gone. Tamim woke up as we fiddled with the radio to try to get more news: "Mama, Papa — what's the matter?"
"They've killed Ammu Najji."
Naji was shot on July 22, 1987, coincidentally our wedding anniversary. Our private days were losing their meaning one by one as the events stretched out their rought hands to tear up our personal calendar and scatter it — tiny pieces of paper — to the wind.
Still, although other events crowded in, there was also time to celebrate the love story between the Egyptian novelist and the Palestinian memoirist-poet. From 2012: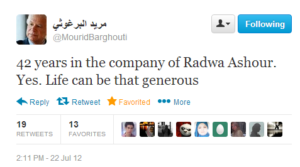 Barghouti and Ashour met as students at Cairo University in the 1960s, and he writes about the beginnings of their relationship in his second memoir, I Was Born There, I Was Born Here, trans. Humphrey Davies:
"I read my first poems to her on the steps of the Cairo University library when we were not yet twenty. We took part together in literary gatherings at the Faculty without it occurring to us that a personal interest had developed, or was developing, between us. We were students and limited our conversation to 'professional' matters such as our studies and never went beyond these into any intimate topic. She would tell me, 'You will become a poet,' and I would reply, 'And what if I fail at that?' I'd tell her, 'You will become a great novelist' and she'd give the same answer and we'd laugh. This 'fraternal' language and collegial spirit continued between us until the four years of study were over and I went to work in Kuwait. I used to write regular letters about my new life in Kuwait to her and to Amina Sabri and Amira Fahmi, our best friends throughout our studies, with whom we'd made something like a small family. I realized, however, that my letters to Radwa contained nothing of my news or the events of my life and concerned themselves only with my unspoken feelings about that life.
"When I saw her on my first visit to Cairo during the summer holidays, we found ourselves talking like a mother and a father, and sometimes like a grandmother and a grandfather. We talked like a family of two that had been together for ages.
"It was out of the question to talk about 'steps' we ought to be taking."
They married in 1970, and Radwa went to the U.S. for a time to study toward her PhD. Their only son, Tamim, was born in 1977. Barghouti writes about it in I Saw Ramallah, trans. Ahdaf Soueif:
"I do not know how men have stolen the right to name children after themselves. That feeling was not simply a temporary reaction to seeing a mother suffer during delivery. I still believe that every child is the son of his mother. That is justice. I said to Radwa as we took our first steps out of the door of the hospital, she carrying the two-day-old Tamim on her arm, 'Tamim is all yours. I am ashamed that he will carry my name and not yours on his birth certificate.'"
That same year, 1977, Barghouti and many other Palestinians were deported from Egypt on the eve of Anwar Sadat's controversial visit to Israel. Barghouti was prevented from living in Egypt for the next seventeen years. Also from I Saw Ramallah:
"And then the Egyptian president, Anwar al-Sadat, had a decisive role in defining our size as a family. His decision to deport me resulted in my remaining the father of an only child, Radwa and I not having a daughter, for example, to add to Tamim, or ten sons and daughters. I lived on one continent and Radwa on another: on her own she could not care for more than one child."
On their continued years of off-on separation, from I Was Born There, I Was Born Here:
"Radwa would pay for the policies of Sadat and his successor Mubarak in the coin of her own private life. She would experience the expulsion of her husband and dedicate her time to caring for her son without the presence of his father for seventeen years, except for short and intermittent periods. When she was obliged to undergo a life-threatening operation, she would be alone with Tamim, who was not yet three years old, while I was in Budapest and forbidden to put my mind at rest about her and be by her side. My mother flew to Cairo the moment she heard of the disease and that lightened the burden for me a little. Once more I had failed to be where I ought to be."
Barghouti was later able to return to Egypt and later even to Palestine, a journey documented in his I Saw Ramallah. Later yet, he is able to bring their son Tamim. On a poetry reading in the square of Deir Ghassanah, in Palestine, from I Was Born There, I Was Born Here:
"I wanted to speak of Radwa in the square of Deir Ghassanah and to the people of Deir Ghassanah because it wouldn't be natural if Radwa's almost total knowledge of everything about the village and its people — their names and life stories, the funny things they're known for and their sorrows — were to remain one-sided. I wanted them to know her too."
The two of them were married for forty-four years. Also from I Was Born There, I Was Born Here:
"Alone, between sky and earth, I think of Radwa."