Then and now: The singer, the graffiti artists and the writer
Cultural producers who gained fame after the revolution
We take a look at the trajectories of four cultural producers who gained fame during or after the January 25 revolution and find out what they're doing now.
Youssra El Hawary (by Rowan El Shimi)
The first time I saw Youssra El Hawary live on stage was in March 2012 during a one-week festival at Rawabet dubbed "Independent Combo." I had probably seen her before with the Choir Project (then named the Cairo Complaints Choir) or in a production by Al-Tamye theater troupe, but didn't notice her at the time. Independent Combo hosted a performance by Hawary, along with Aya Metwalli and Maii Waleed (who both also became major actors in the independent music scene). Back then the three were just starting out. For Hawary it was her first performance as a musician.
I was very taken by her charm. Here was a young girl playing accordion and singing simple yet relatable songs about beingstuck in traffic behind a bus producing "shit" (a reference to smog), about how she hates a girl called Jessica who stole her boyfriend, and about a teddy bear.
It wasn't until a month later that Hawary shot to fame. At the time, the Supreme Council of Armed Forces, headed by Mohamed Hussein Tantawi, were calling the shots after Hosni Mubarak's departure. After a series of clashes between protesters and police in downtown Cairo, several walls were put up, blocking streets and protecting the Interior Ministry. Graffiti artists painted open streets on them in protest, and El-Hawary shot a video for her song Al-Soor (The Wall) at these walls.
Al-Soor – originally a poem and cartoon by Waleed Taher – is about a poor man who urinates on the wall, those who built it and those who protect it. It wasn't originally written about the downtown walls, but Hawary's video gave it new meaning.
The simply shot, documentary style music video on YouTube quickly went viral. It was also picked up by television presenters Youssry Fouda and Amr Adib who played it on air.



Youssra El Hawary, Al-Soor

Suddenly Hawary was labeled a "revolutionary musician." While such a term could be considered now a cliché and worn out, the young artist later went on to earn it. She continued to break taboos in her music, especially with Hato Ketir (on consumerism) and Fel Sharea (On the Street) video (on kissing in public). But Hawary tells Mada Masr that this sudden rise to fame was not such a good thing. There was a pressure to develop herself and her project quickly.
In 2012, she put together a band and has held several concerts in Cairo, Alexandria and Europe. That year she also won the Fair Play Anti-Corruption prize for young people making music against corruption, flying to Brazil to perform.
In 2014, Hawary worked on two interesting projects: She developed a song for Mohamed Khan's acclaimed Factory Girland she started hosting a weekly radio show on independent music on mainstream radio channel Nogoom FM. Each week, she brings in artists from the scene to interview and play music and jam on-air. The artist continues her involvement with Al-Tamye theater troupe and the Choir Project and her radio show. She also says she's aiming to produce two albums simultaneously with her band later this year.
Perhaps what makes Hawary's music stand out from many of her peers is that it's respected in the independent music scene but also rings well with listeners of mainstream music. It's not about complicated musical arrangements or lyrics, but her music feels honest and true to her feelings and values.
Ammar Abo Bakr and Alaa Awad (by Laura Gribbon)
The January 25 uprising spurred a well-documented wave of graffiti and street art. Beginning with scrawled slogans and demands on the walls of downtown Cairo, the breaking of fear in public space prompted several artists to develop complex murals.
Ammar Abo Bakr and Alaa Awad are two artists who gained notoriety during this period. Their work transformed the wall outside the American University in Cairo into a "metaphorical tomb," documented by many photographers and scholars.
Abo Bakr left his job as assistant professor at Luxor Fine Arts College and came to Cairo in October 2011, after the Maspero Massacre. The same year, he painted a mural to those who lost their eyes in the battle of Mohamed Mahmoud, and continued to depict individual martyrs following the Port Said massacre.
Awad was also working at the Luxor Fine Arts College before the revolution, while undertaking a masters degree in fine arts in Zamalek, Cairo, which he finished in 2012. Before the revolution, he mostly worked in his studio for exhibitions. January 25 and the events that followed inspired him to paint more in the streets of Cairo and Luxor. He worked on the "Tomb of Tahrir" Mohamed Mahmoud mural in February 2012 and afterward, using Ancient Egyptian symbols and imagery to highlight issues of power and resistance.
Both artists make it clear that they felt a sense of compulsion to use their skills to further the aims of the revolution. Abo Bakr depicted iconic martyrs — with angel wings or disfigured faces — not so much for their families and friends, but to "expose their killers," whether military, police, Ministry of Interior or Islamists. Awad says he was motivated by a desire for peace and to represent a shared history and culture in the midst of the turmoil he witnessed, particularly on Mohamed Mahmoud Street.
The artistic styles and trajectories of the two artists' work are quite different. Abo Bakr's murals have always been contentious, provocative and at times ironic. In large letters over a mural people had come to love of the martyrs on Mohamed Mahmoud Street, he wrote, "Forget about everyone who died. Keep going and follow the elections," in large, black Arabic script. When social media users asked who would do such a thing, he responded that people didn't deserve to see the martyrs, as their actions defiled the martyrs' memories. Likewise, the pink camouflage backdrop painted by Abo Bakr and other artists after the destruction of the state's own monument to the martyrs was not widely understood as being both anti-military (particularly by the soldiers stationed in front of it), and anti-Brotherhood, due to the intentionally vulgar nature of the statement written over it: "You may kill people, strip them, arrest them, have fun after arresting them, but we won't forget."
Awad's work on Mohamed Mahmoud Street and in the surrounding area reflected social dynamics — taking on a more subtle form than Abo Bakr's, reminding Egyptians of their history, culture and resilience.
After the December 2012 Ettehadiya clashes and the polarizing Islamists vs. military narrative, Abo Bakr shifted his focus to other initiatives, working on a collective collaborative image of Egypt as a woman (June, 2013) on Qasr al-Nil Street, and making a number of trips overseas, mostly to Europe to give talks on graffiti and visual protest and to work on commissioned pieces. His most recent work is at the Arab Institute in Paris, where he and two other Egyptian artists painted the face of a Sufi singer with his head in his hands and the slogan, "Je suis celui qui n'a pas le droit d'etre" (I am the one who has no right to exist) following the Charlie Hebdo attack.
Awad has also participated in events and exhibitions outside Egypt and continues to work at Luxor Fine Arts College and in the same studio on Luxor's West Bank, where he is commencing a PhD. He has participated in a number of events and talks on street art and is working towards an upcoming solo exhibition at ArtTalks, a gallery in Cairo.
Ezzat Amin (by Amany Ali Shawky)
As the creator of the famed term "hezb al-kanaba" (couch party), engineer, author and scriptwriter Ezzat Amin felt compelled to build on the hit that was his Facebook "note," Resala Ela Hezb al-Kanaba al-Azeem (A Message to the Great Couch Party) of February 22, 2011, referring to the "silent majority" of Egyptians who were not active participants in the country's political life or protests.
Hezb al-Kanaba: Rahlaty min al-Kanaba illa al-Midan (Couch Party: My Journey from the Couch to the Square, 2011) is about exactly what it says on the cover. The Dar al-Shorouk publication is a compilation of 24 articles that Amin wrote over 10 months on his then-public Facebook wall.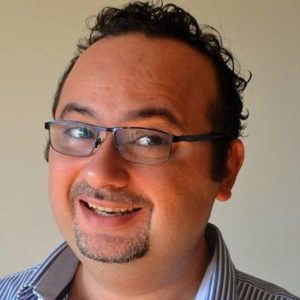 What singled it out from the hundreds of publications that surfaced around the revolution was that it documents the events of the revolution through the eye an "ordinary" citizen, not a politician or an activist.
"I'm more important than politicians and activists," claims Ezzat. "I represent millions."
The book is a snapshot of the 18 days of the revolution, the socio-political conditions that led to it and the changes that followed.
"One of the occurrences I will never forget is an army official saying 'good morning' to protesters who had slept under the wheels of his tank to prevent it from moving," he writes.
The book draws the Muslim Brotherhood in a positive light, which reflects the image of the group at that time.
"I would not change a word in the book – these were my views then and the reason I got off the couch," explains the writer, admitting that now he sees the Brotherhood in a totally different light. "I wanted to write this book for my son to show him how we were and how we were thinking at the time."
In 2011, Amin also co-hosted a show under the same name on Gomhoreya TV depicting the life of an anti-revolution couple living in Tahrir Square. Prior to that, he had played the role of Champollion, an offbeat Egyptologist in Amir Ramses's film Waraket Shafrah (Secret Code, 2008).
Quantitively, 2011 was a good year for literature in Egypt. A wave of publications saturated the market – some were written and printed so hastily that the book would literally fall apart as you read, and some were adequate documentation of street politics. Now, there is still a literary abundance but with more cautiousness, a tendency to steer away from the topic of the revolution.
Amin is currently working on his second book, as well as a screenplay with Mohamed Hefzy of the Film Clinic. His new book will not really tackle politics: It's based on the true story of a young man who moves back to his family home to live with his aunt and grandma, but ends up selling the house after getting rid of his family.