Translating Gesture in a Transnational Public Sphere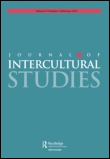 Amelia Barikin, Nikos Papastergiadis, Audrey Yue, Scott McQuire, Ross Gibson; Xin Gu
Journal of Intercultural Studies 2014, Vol. 35, No. 4, 349–365.
Translation is a key concept for interpreting cross-cultural exchanges. In this article, we track the development of an artistic project that we developed in conjunction with Federation Square Melbourne and Art Centre Nabi in Seoul. It involved the performance of a live telematic dance that occurred in both cities and was transmitted via the use of large screens. The interaction across these physical and mediated spaces produced a dynamic exchange of learning and communication. Through our active involvement as curators, participant observers and the gathering of audience participation data, we discovered that the corporeality of the dance placed both the addresser and the addressee in the context of the social practice of translation. In this context, we note that artistic projects can provide an embodied experience of the forms of heterolingual address and cross-cultural translation as analysed by Naoki Sakai. We conclude that the fascination for engaging in transnational communication was stimulated by the cross-cultural process of translating gestures.