Ahmed Maher, Jailed Egyptian Activist, Describes Prison In Smuggled Letters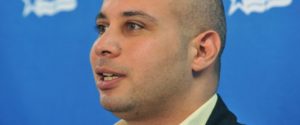 Shadee Ashtari
Posted: 01/07/2014 5:04 pm EST Updated: 01/23/2014 10:53 am EST

"It is forbidden to read or write, and entering a pen and paper to the political prisoners is more difficult than smuggling in drugs, and whoever is caught with a pen or paper is tortured along with all those with him," reads the Dec. 3 letter, smuggled out of Egypt's notorious Tora Prison. "I met with some of the most famous and important figures of Europe, America, India, Korea and Turkey … And here I am now looking for a loaf of stale bread to eat."
In 2011, the letter's author, Ahmed Maher, played a central role in the movement that deposed former President Hosni Mubarak and earned a Nobel Peace Prize nomination for his work toward democratic reform through peaceful revolution. Today, he is kept in solitary confinement under maximum security surveillance, and only permitted two hours a day outside of the cell, according to Michelle McElroy, a human rights activist and spokeswoman for Maher. Since his imprisonment in December, he has managed to smuggle out more than 10 letters, scrawled on toilet paper and napkins. On Dec. 25, Maher and his two fellow activist inmates launched a hunger strike to protest the prison's conditions.
"They have been restricted from accessing their lawyers or family members and are prohibited correspondence or any use of paper, pens or books," McElroy told The Huffington Post. "Their treatment in prison is being overseen by the highest security personnel, meaning no one can give them a cup of water without State Security approving it."
McElroy provided eight letters, translated from Arabic, to The Huffington Post. They piece together a grim picture of life inside Tora Prison, and outside it: Since the military overthrow of former President Mohamed Morsi in July, army officials have have implemented harsh crackdowns on political dissidents, and more than 1,000 people have been killed.
Authorities arrested Maher and the others — Ahmed Douma and Mohammed Adel — in December, charging them with organizing a November protest outside the Egyptian parliament and use of violence against security officers upon the demonstration's dissolution. They were sentenced to three years' hard labor.
The verdicts against the activists represent the first political cases against non-Islamists since Morsi's overthrow, further indicating that interim President Adly Mansour will continue to use Tora Prison and the crackdowns as past governments have: to suppress political opposition. Fear of the same kind of revolutionary protests that displaced Mubarak and Morsi led Mansour in November to issue an effective ban on street protests, outlawing public gatherings of more than 10 people without prior government consent in an attempt to quash any anti-government activity. Security agencies have also been permitted to disrupt and forbid any public gatherings they consider as menacing to public order.
The government may see Maher's work as a threat. A long-time activist, he is a co-founder of the April 6 Youth Movement, an organization that was highly influential during the 2011 revolution and led to his Nobel Peace Prize nomination. He has managed to continue his activism while in prison, through his letters.
In the Dec. 3 letter, entitled "The Bread of Garayya," Maher wrote about his conditions:
Those detained for crime have their freedom inside the prison regardless of their charges, whether murder or theft or drug dealing, but the political prisoners and those detained after 30 June are kept in solitary confinement; the door of their cell is not opened all day long, contrary to all morals and laws of human rights …
… because I am charged with breaking the new protest law in the era of democracy after the 30th June, and I write with the tip of a worn-out pencil after eating the stale bread….no bread, no freedom.
In a Dec. 10 note, Maher observes, "Torture in the police stations and prisons is back in full force. All of the corrupt figures of the Mubarak era are back, and the abuses of human rights have increased."

In a letter entitled "Didn't Happen in the Past 122 Years," dated Dec. 12, Maher described his cell conditions:
They say Egypt has not seen this kind of weather in the past 122 years. I believe you, but this snow could not have happened except when I was in prison? In prison, there are no windows I can close. The windows are wide and high, barred and open, and the wind is always inside. Even the prison gate of this jail is not like in other prisons where there is a small slit in a door of steel. Here only half the door is blocked … and in cold that has not been seen in the past 122 years, it is too much …
Human rights advocates, international organizations and governments worldwide have spoken out against the activists' arrests, criticizing the military-backed government for losing sight of its long-fought-for democratic progress.
In December, U.N. Secretary-General Ban Ki-moon's spokesperson released a statement condemning the Egyptian government's detainment of the activists:
Under the controversial new law regulating protests, three prominent democracy and human rights activists were sentenced to three years in prison on Sunday … The Secretary-General views these actions, in restricting Egyptians' political space, as contrary to the spirit of Egypt's revolution nearly three years ago, when calls for freedom and democracy motivated Egyptians to take to the streets so courageously and decisively.
 U.S. Department of State spokeswoman Jen Psaki also criticized the arrests in a December press release.
"The United States is deeply concerned about the worsening climate for freedom of assembly and peaceful expression in Egypt," Psaki said. "The implementation of Egypt's restrictive demonstrations law has led to an increase in arrests, detentions, and charges against opposition figures, human rights activists and peaceful demonstrators, and sends a chilling message to civil society at large. In particular, we believe that the verdicts issued December 22 do not contribute to an open electoral environment or a transition process that protects the universal rights of all Egyptian citizens, and therefore should be reviewed."
Ahmed Maher, Mohamed Adel and Ahmed Duma's appeals trial will be held on Wednesday, Jan. 8 to contest charges of masterminding "illegal protests." In addition to their prison terms, each of the activists have been fined 50,000 Egyptian pounds, or $7,186.
Read the letters here.

http://www.huffingtonpost.com/2014/01/07/ahmed-maher-jail-egypt_n_4552539.html